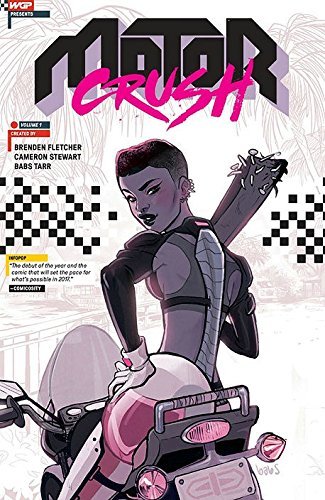 Motor Crush Volume 1 (TPB)
Partager un objet
Auteur:
Cameron Stewart, Babs Tarr, Brenden Fletcher
Signed copies are out of stock indefinitely. For more information on attending Babs Tarr Motor Crush Exhibition & Signing, click here.

The team behind the critically-acclaimed revamp of Batgirl returns with an exciting sci-fi action-adventure series! By day, Domino Swift competes for fame & fortune in a worldwide motorcycle racing league. By night, she cracks heads of rival gangs in brutal bike wars to gain possession of a rare, valuable contraband: an engine-boosting "machine narcotic" known as Crush.
Collects issues 1 through 5.
Options
Si vous voulez que nous commandions plus de ces objets, veuillez contact us. Noter que nous ne pourrons pas recommander tous les objets.
Vous devez aussi considérer...