cmykevin
Kevin Chan is a local freelance designer, illustrator, and crafter who graduated with a BFA in graphic design from Cal Poly Pomona. Most recently, Chan received the Certificate of Typographic Excellence from Type Directors Club in the TDC57 Communication Design Competition, and will be included in the Type Directors Club Annual, Typography 32. His work can be seen regularly here at Gallery Nucleus and Flock Shop.
Para solicitar información sobre la puesta en obra de este artista, por favor contáctenos.
---
Obras de Arte
Accesorios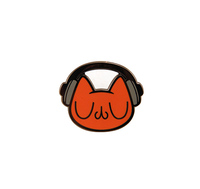 Headset Cat (enamel pin)
cmykevin
9.95 USD
Fuera de Colección volver a surtir lo!